Join us for a virtual luncheon meeting on November 10 when our speaker, Chuck Runyon, CEO and Co-Founder at Self Esteem Brands, LLC will share A Frans-Giving message on Staying Positive and Impacting Lives.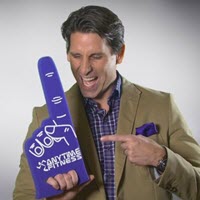 Chuck Runyon
CEO, Self Esteem Brands, LLC
As the CEO and Co-founder of Self Esteem Brands, Chuck Runyon leads a global collection of franchises intent upon improving the health and wellness of millions of people worldwide.
A leading authority in the field of fitness, Runyon revolutionized the industry when he and Dave Mortensen co-founded Anytime Fitness in 2002. The world's largest and fastest-growing fitness club serves 4,000,000 members in nearly 40 countries and it is the first franchise in history with locations on all seven continents.
In addition to Anytime Fitness, Self Esteem Brands serves as the parent company to three other rapidly-growing franchises: Waxing the City, The Bar Method, and Basecamp Fitness.
Central to Chuck's leadership philosophy is the concept of "ROEI" – the return on emotional investment and co-authored a book called "Love Work: Inspire a high-performing work culture at the center of People, Purpose, Profits and Play®." Under Runyon's leadership, Anytime Fitness has earned numerous industry accolades, including "One of America's Most Promising Companies" and the world's #1 franchise. Additionally, Anytime Fitness has been honored as a "Top Franchise for Minorities" and "The Best Place to Work in Minnesota" – four years in a row and just this past week, he and Dave Mortensen also were recently named "Entrepreneurs of the Year" by the International Franchise Association.