Join us to hear Melanie Bergeron, Chairwoman of Two Men and a Truck and the company's first franchisee, share her family's story of becoming the largest franchise moving company in North America.
The Ravinia Club
2 Ravinia Drive #100
Atlanta, GA 30342
(770) 392-7300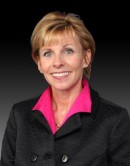 Melanie Bergeron, CFE, is the chair of TWO MEN AND A TRUCK®/INTERNATIONAL, Inc., the largest franchised moving company in North America. Bergeron began as the company's first franchisee – the founder of the company is her mother, Mary Ellen Sheets. Bergeron became president in 1994 and together with her team grew the company from $6 million to $198 million.
The company has been featured on The Today Show and CNBC's How I Made My Millions. Bergeron has spoken at several universities and for many business groups to share best practices she has learned along the way. She also spends time mentoring other young entrepreneurs.
In addition, Bergeron serves on the International Franchise Association executive board. She is on the board of directors of the Lansing Regional Chamber of Commerce and is president of a non-profit thrift store called Hidden Treasures.
For more information, visit www.twomenandatruck.com.